Spare a Rose: Helping People with Diabetes in Need
So many people with diabetes whose lives depend on insulin are struggling to afford and get access to this life-sustaining medication, and in some cases, they're rationing and even dying as a result.
That's why every year in February, our Diabetes Community gets pretty vocal about the
"Spare a Rose" initiative
, a grassroots effort aimed at raising money to provide insulin and diabetes supplies for those in desperate need across the world.
The idea is simple: Instead of buying the typical "dozen roses" that are so popular on Valentine's Day, you buy just 11 and donate the value of that last flower (roughly $3 to $5) to help someone with diabetes. You still get to be romantic and give roses, while also showing some love to someone who really needs it.
Seriously, it really is that simple.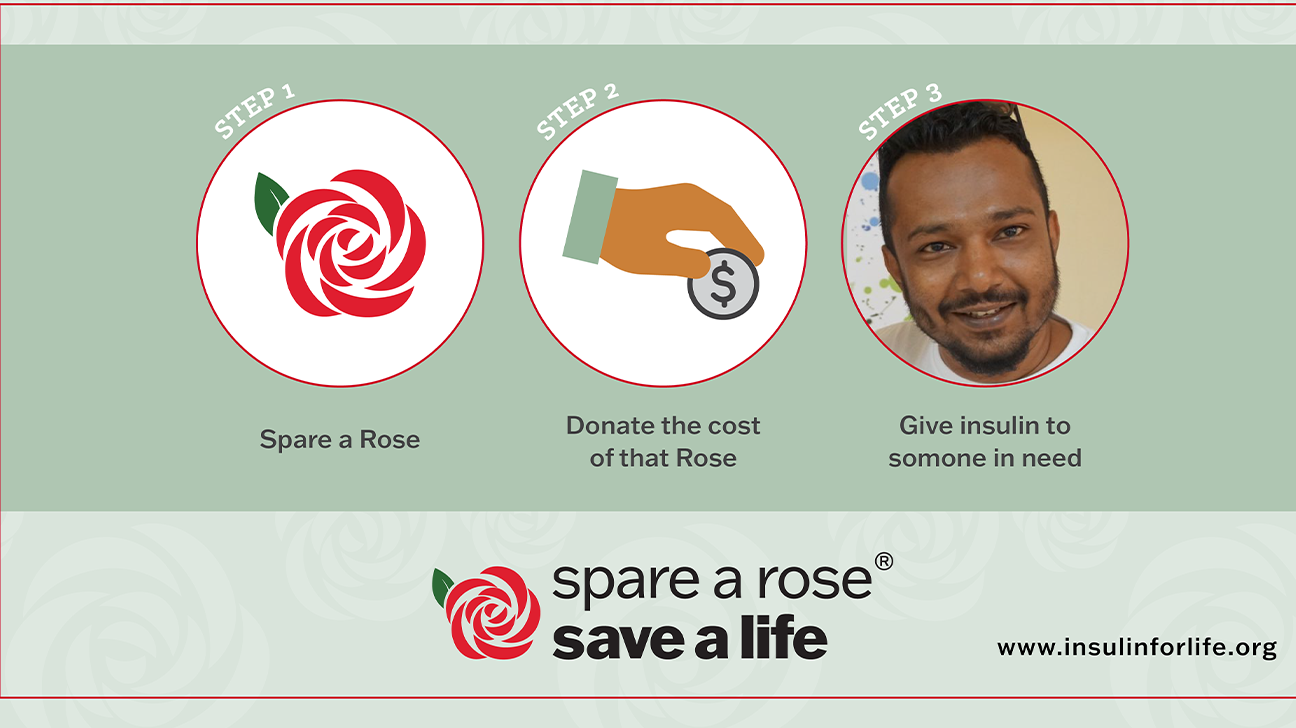 You're literally just sparing a rose — at a minimum, because there is certainly an opportunity to spare all the roses and donate much more than just the cost of a single flower.
Since the initial year in 2013, Spare a Rose has raised almost $400,000 from community donations, including support from companies in the diabetes industry.
Originally, all the money was donated to the International Diabetes Federation's (IDF) Life for a Child (LFAC) program, which was founded in 2000 to help children with diabetes in developing countries who might otherwise die immediately or have a short life without this assistance.
But for 2022, Spare a Rose has taken on a new charity beneficiary that expands the reach to more people who need help.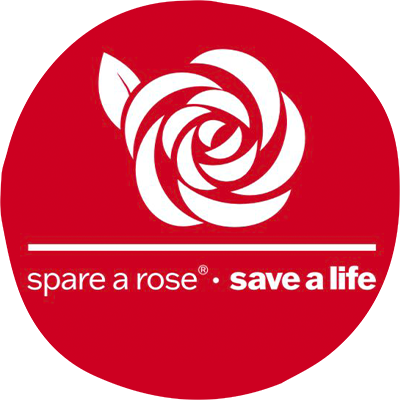 Spare a Rose donations are now being directed to the Insulin For Life Global organization, a registered charity that since 1984 has been providing insulin, supplies, education, and advocacy to children and adults alike in many under-resourced countries worldwide.
With that change, the campaign name "Spare a Rose, Save a Child" is being revised to "Spare A Rose, Save a Life" — embracing those in need of all ages, in keeping with the reality that you can be diagnosed with type 1 diabetes (T1D) at any age, and the need for insulin and supplies is universal.
"The campaign is doing something different and broadening its outlook to support people with diabetes diagnosed as adults, or who 'age out' of programs that have an upper age limit," said diabetes advocate Renza Scibilia in Australia, who blogs at Diabetogenic and volunteers with #SpareARose.
"With this in mind, #SpareARose has changed... to recognize how the campaign will be helping adults with diabetes now. It's so wonderful to know that these people will continue to receive insulin and other diabetes supplies, even once they hit 26 years of age, and beyond."
Seeding an idea
For those not familiar with this annual campaign, it's important to remember the history of how this all came to be. Spare a Rose is one of the few enduring initiatives to come from the Diabetes Online Community (DOC) at a time when many were just beginning to discover the online universe as a source of support and information, and just as the insulin pricing crisis in America was beginning to bubble up as a major point of concern.
A small group of passionate D-advocates came together in 2013 looking for a way to use social media and our ever-growing online D-community to do social good.
That small group of diabetes advocates — including Kelly Close of diaTribe and Close Concerns, Manny Hernandez who'd led the Diabetes Hands Foundation organization at the time, D-Dad Bennet Dunlap, Kerri Sparling of Six Until Me, and Jeff Hitchcock of Children With Diabetes — met early that year to brainstorm ways to use social media to help the broader Diabetes Community offline. The Spare a Rose idea came from their discussions, which have continued organically through the years during down-time at conferences, Pharma-sponsored summits, and smaller local meetups.
The group initially considered many different avenues, from helping those on Medicaid whose insurance coverage is limited or possibly helping patients who may be uninsured. But in the end, they settled on IDF's Life for a Child program, as the critical need for insulin to keep T1D's alive is a glaring and obvious one.
Importantly, Spare a Rose remains true to its grassroots, community spirit.
"No one person 'owns' this campaign, which makes it all the more powerful," Sparling said. "The entire Diabetes Community plays a role and stakes a claim in its success, making every voice matter and every donation more poignant. This campaign is not about big companies making big donations... but about the community coming together in small ways to make a big difference."
You can see some of the participation and connect with others following this effort by following the #SpareARose hashtag on Facebook, Instagram, and Twitter.
Expanding reach of #SpareARose efforts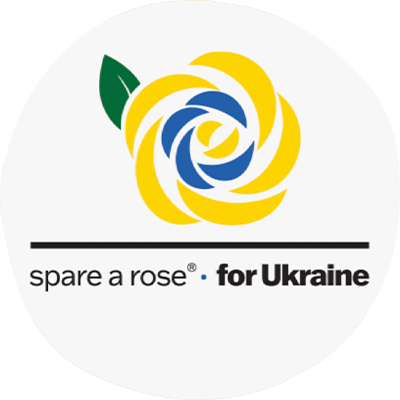 In early 2022, as the Russia and Ukraine conflict took shape, the #SpareARose effort expanded its focus beyond just the traditional timeframe of February for fundraising. Throughout the month of March 2022, money raised would be earmarked to support people with diabetes in and out of Ukraine. The money continues to go through Insulin For Life, and that group's international consortium and network in Europe — along with partners in Ukraine and neighboring countries — will help supplies be ready to go if and when and where needed.
This is pretty incredible on several levels, not only that it's helping those in need at a critical time, but that it shows just how this D-Community's #SpareARose effort is scalable on so many fronts. That isn't necessarily the plan or the goal in the longrun, but it shows so much potential. Just imagine if we saw this grassroots community campaign expand every time there was a hurricane or natural disaster globally, and there was a specific campaign aimed at helping those most at need during those situations.
Impact of Spare a Rose diabetes campaign
The impact has been heartwarming to see over the years, with companies like Ascensia Diabetes Care making global announcements of support, and patient-led initiatives like the well-received Diabetes Podcast Week helping promote the campaign.
Spare a Rose has also honed in personal stories over the years. For example, the 2018 campaign focused on the story of a T1D brother and sister from a village in India who were both diagnosed at roughly the same time a year earlier: Poovarasi, diagnosed at age 18, and her younger brother Ruhan, diagnosed at 13.
Without support, this pair would not have been able to afford insulin and supplies to manage their diabetes. Their doctor told the IDF. "They were provided with a glucometer and strips... and soon excelled in self-monitoring and their A1C dropped to near-normal levels. The boy soon returned to school and the girl has started to learn tailoring to complement the parents' income. Nearly a year following the diagnoses, the family has regained some of the original happiness that they had."
With that, we just have to echo how hugely important insulin affordability is here in the United States and across the world; withholding access is an outrage.
As we all mark the 100th anniversary of insulin's discovery in 1921 and that historic milestone in January 1922 when insulin was first given to a human with diabetes who would've died without it, we can't echo enough how important it is to raise the level of conversation globally about making insulin affordable and accessible to every single person who needs it.
Really, with the "Hallmark Holiday" of Valentine's Day that encourages a celebration of love, it's a great moment for our Diabetes Community to step up.
'Tis the season to celebrate both Love and Life. Enough said.
- - - - - - - - - - - - - - - - - - - -
Originally published on DiabetesMine