Thousands Tune in for American Diabetes Association's First-Ever Virtual Conference
Like everything else in 2020, the biggest diabetes conference of the year was anything but normal. The American Diabetes Association's 80th annual Scientific Sessions were, for the first time ever, held completely online as a sprawling, fast-paced, virtual streaming experience.
Thousands of medical professionals from across the globe tuned in for the five-day event, June 12 through 16, many in casual clothes rather than professional conference attire — from their kitchens, living rooms, and home offices with curious kids, home decor, and pets popping in occasionally.
So it goes in 2020, as the world navigates the ripple effects of a global pandemic that's catapulted us into virtual business and telehealth mode.
The SciSessions have been held as a huge in-person gathering consecutively since the org's founding in June 1940, with the single exception during World War II when the conference was not held.
"There was a lot of trepidation about what this year's conference would look like," said Dr. Robert Gabbay, formerly of the Joslin Diabetes Center in Boston, who takes on the role of ADA's chief medical and scientific officer on July 1, 2020. Gabbay has been attending the SciSessions consistently since the early 1980s, and was nervous himself about the move to cyberspace.
"It's really worked well, with it being easier to jump around to different sessions when you're online versus in-person trying to get to different locations and meeting with colleagues. There is a trade-off, but I have heard a lot of people saying the ADA's done an incredible pivot in making this happen," he said.
Biggest themes of #ADA2020
No doubt, the global coronavirus crisis and how it's led to a quick transition to telehealth and remote care was top of mind at the conference. These aren't new topics, of course, but we've all been thrown into the deep end in a way we just couldn't foresee.
This theme came up in almost all sessions, whether specific to care models, health economics, or just the changing nature of diabetes management. Yes, it was present in talking about type 1s and tech-focused data reviews that are designed for virtual care, as well as type 2s in rural communities who might be most in need of clinical care.
Also timely due to current events was the theme of racial and ethnic disparities and inequities. This was weaved into most of the conversations on care and research. Specifically, skyrocketing drug and insulin costs, access, and affordability were repeatedly highlighted, which was key given that the highly academic SciSessions have often been criticized for not doing enough to address the practical struggles of people with diabetes.
There seemed to be universal recognition of inequities in everything from costs and care models to food access, insulin pricing, and technology access. These disparities have become more pronounced along socioeconomic and geographic lines, and are particularly glaring with regard to race and ethnicity.
"We're all people living in society right now, and we can't help but see and hear what 's going on in the world," Gabbay told DiabetesMine. "I do think those issues are more exposed by the pandemic and current events, we know those inequities exist in many ways within diabetes and healthcare."
How the online setup worked
Per the ADA, by the numbers:
12,537 attendees registered for the ADA's virtual event, compared to the usual 15,000 to 17,000 who typically attend in person.
34 percent from the U.S. and 66 percent internationally.
800+ presentations within 200 virtual sessions and award lectures, not to mention poster sessions, receptions, symposia, and "theaters" providing a deep dive into new products.
The ADA used a handful of different platforms and tools to bring all these components together into one virtual SciSessions experience:
Viewing presentations: The ADA used global firm Wolters Kluer for a video presentation platform that allowed attendees to see the speaker and their slides, as well as a live chat box for discussion and questions during the session. Each session had anywhere from 2 to 8 presentations. The ADA2020's main navigation page allowed attendees to scroll through the list of ongoing or approaching presentations to see what was live at any given time. Presentations were also available to view afterward, although without the active live chat, of course.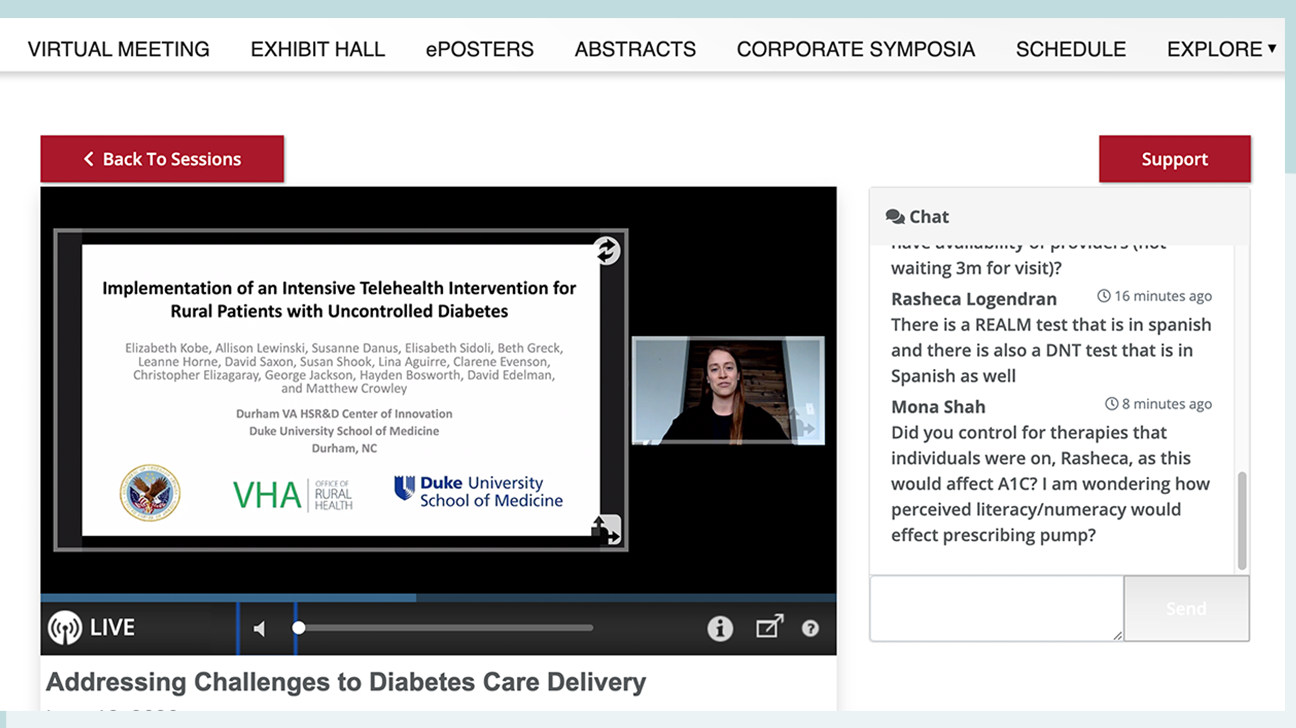 Some presentations were conducted live, while others were pre-recorded. We found it a bit odd to watch a pre-recorded "product theater" that included clinical data and user experiences about a particular product. At the in-person conferences, these typically have a line out the door with chatty attendees grappling for limited seats and sack lunches. By comparison, tuning in virtually in 2020 seemed rather dull.
ePosters: Usually, a large airplane-hanger-like hallway is packed with rows and rows of posters displaying the latest scientific research, all tacked to pegboards as far as the eye can see. For the virtual ePoster hall, ADA used the meeting technology firm Apprisor.org to display this year's array of diabetes research. Registered attendees with logins could see PDF and photo images of the posters, and some included voice or video playbacks to listen to a researcher describe his or her work. ADA had a total of 1,800 ePosters and more than 2,400 abstracts of scientific data. Since the deadline to submit these falls mostly early in the year, the COVID-19 pandemic didn't have effect here; though the many "late-breaking" abstracts did offer some more timely topics.
Mobile app and online planner: There was a publicly available mobile app and online calendar that included a searchable database of the scientific abstracts. Many people "attending" the SciSessions were using the app live to view schedules, specific presenters or attendee info, and even connect individually outside of the general public chats during sessions.
Receptions, symposia, and product theaters: These were hosted using a variety of tools. For example, ADA used Zoom to host several reception-style gatherings (one for the press, another to air the PBS documentary "Blood Sugar Rising"). The corporate-sponsored symposia as well as "product theaters" often held on the exhibit hall floor used live-broadcasting services like Vimeo to stream.
Social media: The ADA was posting live updates at ADAMeetingNews. And from presenters and attendees, there were a ton of social media posts you can check out at #ADA2020 and #ADAGoesVirtual.
A virtual expo floor
Another massive undertaking was creating an online expo hall experience. The show floor typically has hundreds of diabetes companies, organizations, and government agencies exhibiting — from small tables to extravagant booths serving coffee and snacks, lounge areas, and reps on hand to give product demos and answer questions. This is where many go to get first glimpses of new gadgets or technology, often "under the glass" if not yet approved by the Food and Drug Administration (FDA).
Replacing that this year was a virtual exhibit hall built on eZ-Xpo's digital platform. There were only about 30 exhibitors listed, and one company noticeably missing from the roster was insulin manufacturer Eli Lilly; whereas both Novo and Sanofi were featured as "VIP" and "Premium" exhibitors, respectfully.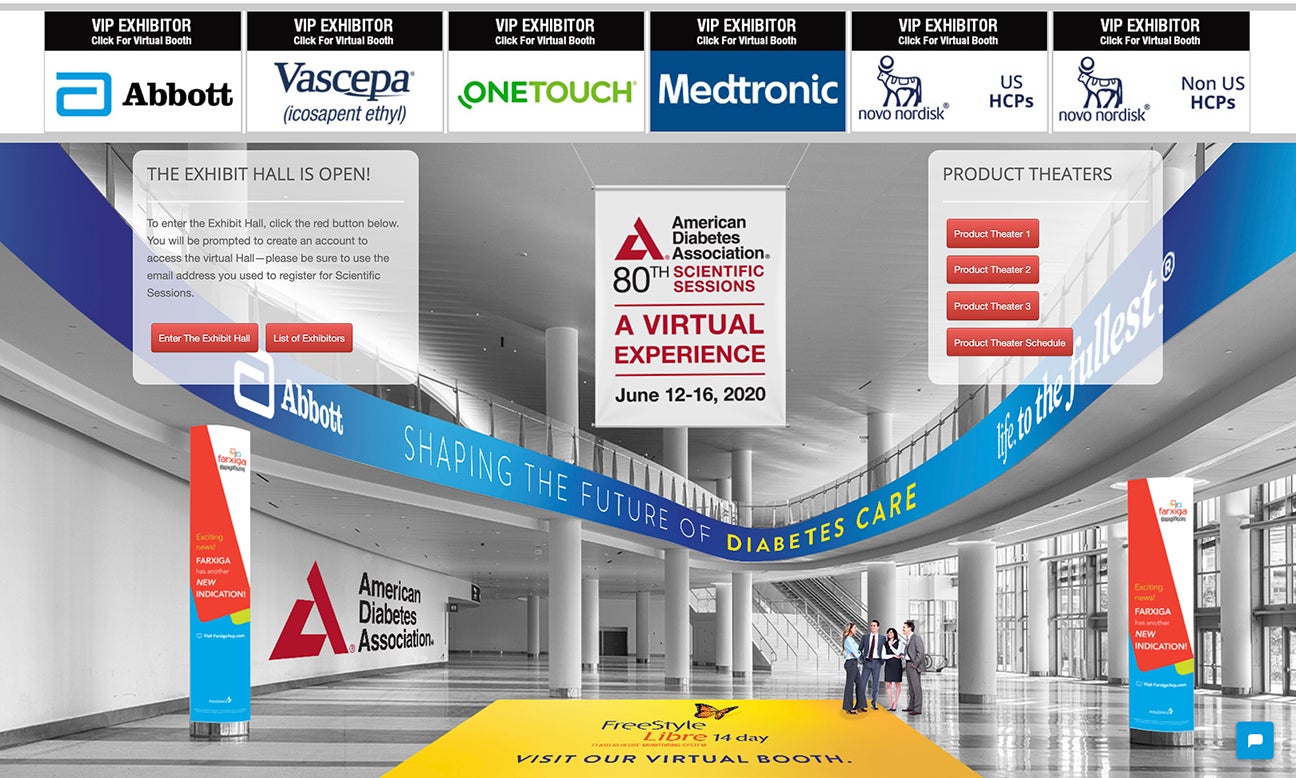 In many ways, this felt like the most unnatural part of the conference to us. It was like being inside a video game or semi-interactive product marketing virtual reality experience. You could click on each of the companies' logos to enter their "booth." But the experience varied, with some offering just simple text about their already-available products.
Some, like Dexcom, Medtronic, and Abbott, offered much more elaborate interactive experiences that allowed attendees to click around and "move" through the booth for different information. This included marketing videos, product pamphlets, or, in some cases, just a link back to the company's website.
Top #ADA2020 product news
Here are some of the biggest diabetes news items that dropped during or right before the start of SciSessions 2020:
Abbott FreeStyle Libre 2 finally approved
In many ways, the long-awaited announcement of FreeStyle Libre 2 gaining FDA approval was the star of the show as product news. This upgrade of Abbott Diabetes' flash glucose monitoring system came just before the final day of the conference. Libre 2 features built-in Bluetooth to allow optional real-time alerts for both low and high glucose levels. This puts the system more on par with competing continuous glucose monitors (CGMs), though users still need to manually scan the round Libre 14-day wear sensor to get actual numerical value.
Two new types of insulins
Ultra-Rapid Lyumjev: Eli Lilly announced on June 15 that it obtained FDA clearance for its ultra-rapid insulin, Lyumjev (pronounced LOOM-jehv). Clinical trial data from 2019 shows this is faster than existing injected insulins, clocking in at 13 minutes compared to Humalog and other meal-time insulins that take as long as 27 minutes to start impacting glucose levels. It'll be sold in 10 mL vials and also prefilled KwikPens, both in 100 units/mL and 200 units/mL concentrations. Lyumjev is not approved for use in insulin pumps, but Lilly's aiming to submit to FDA for insulin pump use later in 2020. Right now it's for adults only, as pediatric studies remain ongoing. Lilly plans to begin shipping ASAP, but unfortunately does tell us this insulin will have the same ~$300 retail list price as Humalog. It will be included in the Lilly Insulin Value Program that offers eligible patients to get this insulin and others for as low as a $35 monthly co-pay.
Semglee basal insulin: Going into the big ADA meeting, Pharma companies Mylan and Biocon announced they had received FDA clearance for their new Semglee basal insulin. This is a knockoff of Sanofi's still-popular Lantus long-acting insulin. It is the second so-called "follow-on" insulin for Lantus in recent years, after Lilly's Basaglar launched in 2016. While pricing details aren't yet finalized, Mylan tells us it's FDA-okayed for children ages 6 to 15, as well as adults. Semglee will come in U-100 concentration, in both 10mL vials as well as a 300-unit prefilled insulin pens with 1-unit dosing increments.
New Medtronic Diabetes tech tools
Under new leadership since last year's SciSessions, Medtronic Diabetes dropped a few exciting details of its tech pipeline, including important pivotal trial data for its upcoming Minimed 780G, known as the Advanced Hybrid Closed Loop (AHCL) system. This system now has CE Mark approval overseas, and Medtronic is gearing up for the 780G filing with FDA here in the U.S.
Importantly, the 780G will add Bluetooth connectivity to allow for data-sharing — a key function missing from the earlier 670G Hybrid Closed Loop model launched in 2017. It will also feature an automatic correction bolus as well as a lower, more personalized target of 100 mg/dL (compared to the fixed 120 mg/dL target in the current 670G system). It also allows for differing programmable insulin duration times, unlike other commercial closed loop systems available.
Of note, Medtronic has already filed with the FDA a 770G device, which it describes as the "hardware side" of the upcoming 780G. A "stop-gap" offering between the current 670G and the full-featured next generation, the 770G includes a Bluetooth connection for data-sharing and will be approved for use in kids as young as 2. We understand Medtronic filed this in the early part of the year, and the FDA could finish its review any day now.
Extended-wear infusion set: Medtronic also presented data on its 7-day infusion set, which could be worn twice as long as current models approved for a max of 3 days. A U.S. pivotal trial is ongoing and this novel infusion set is already approved in Europe.
Future sensors: Medtronic also highlighted plans for its next generation of CGM sensors, both known only by internal project names for now:
"Project Zeus:" a sensor that would still have a 7-day wear and the same seashell design that sticks onto the body, but would be an interoperable "iCGM" that would require fingerstick calibrations only on the first day of use.
"Project Synergy:" an all-in-one sensor/transmitter that will be fully disposable and have a new look. With a flatter, square-form factor 50 percent smaller than the current model, it will not require any overtape to keep it on, and its simpler three-step insertion process should take just 10 seconds. It's to be determined whether it has a wear time longer than 7 days. This model is likely at least a year or two out (~2022 to 2023), as investigational studies are just beginning.
Tandem Control-IQ for kids
Just a day after the SciSessions ended, Tandem Diabetes Care announced FDA approval of its Control-IQ system for children ages 6 and up. (The company had undoubtedly hoped to announce this during the actual conference.) Timing aside, the Control-IQ advanced hybrid closed loop feature is built into the t:slim X2 insulin pump. The CGM device was first approved in late 2019 and launched in January 2020 for ages 14 and up. While physicians could prescribe this "off-label" to younger kids, many choose not to go that route prior to official regulatory approval. Tandem also presented at the ADA SciSessions some new data on the system's real-world performance, showing it improves time in range without leading to more low blood sugars.
No word yet on the mobile app for Control-IQ, or the next-gen t:sport mini hybrid pump the company has in the works. Both were planned for mid-2020, but it's to be determined with pandemic-related delays on when those will materialize.
Omnipod and Dexcom progress
Omnipod 5: The Massachusetts-based company presented some data on its tubeless patch pump with hybrid closed loop features, rebranding it as the Omnipod 5 from the original name Omnipod Horizon. The company tells us that this is a marketing move recognizing the number of generations, beginning with an early iteration approved by the FDA in 2003, and following the second generation, the first to be offered commercially in 2005. As of now, the closed loop Omnipod 5 is expected in 2021.
Dexcom G6 Pro: The California CGM company is launching the clinically focused professional version of its G6 CGM, which first snagged FDA approval in late 2019. The Dexcom G6 Pro will start shipping to clinics and physicians' offices in early July 2020, we're told. This will offer both real-time data as well as a blinded function for the 10-day sensor, allowing physicians to connect a patient to this technology for a brief period to assess glucose and diabetes management. This new professional version is the first update since the G4 Pro, which has a shorter wear-time and doesn't have the calibration-free designation.
Future G7 model: Dexcom says its next-gen CGM has been delayed because of the pandemic's effects on clinical trials, and is now expected at some point in 2021. That new model will be much smaller and fully disposable with an all-in-one sensor / transmitter design, and many are eager to see it hit market.
#ADA2020 new research highlights
New research presented at the annual SciSessions spans the gamut on diabetes topics: from complications and cure research, to new technology and digital tools, mental health and psychosocial, nutrition and exercise, new medications, healthcare policy, the business of diabetes, women's leadership and the ever-present health inequities and disparities.
Here is a glimpse at some of the larger research focuses presented at this year's virtual conference:
CGM use: With all the buzz about new automated insulin delivery (AID) systems recently, many sessions focused on how CGM data is being integrated more often into varying aspects of diabetes life — as well as how it's being weaved into clinical trials more often. Still, as CGM companies push toward more mainstream use among consumers (beyond the diabetes community), there was oft-cited recognition that too few people with diabetes yet have access to this life-changing technology for many reasons, including affordability and "clinical inertia."
Insulin-producing cells: More than a dozen presentations touched on islet cell research and how transplants, beta-cell function, and so on are evolving. Some interesting new data came out on islet cell architecture and how understanding that could lead to new areas of diabetes treatment.
Behavioral health: Not surprising, the psychosocial aspects of diabetes were again in the spotlight, as these topics have been more often in recent years. We caught multiple presentations focused on mental and behavioral health. Dr. Mary de Groot at Indiana University School of Medicine, who leads the ADA's healthcare and education section, said: "In the last 50 years, we have characterized the nature and impact of depression, diabetes distress, anxiety, fear of hypoglycemia, challenges to adherence, and the critical role of social support in managing type 1 and type 2 diabetes."
Food: Naturally, nutrition was covered in a variety of sessions, from new research on low-carb eating to varying interventions and how nutritional options and food access play a greater part in diabetes management than some would've expected. In one Sunday afternoon session, experts Dr. Belinda Lennerz of Boston Children's Hospital and Dr. Carmel Smart of John Hunter Children's Hospital debated the potential pros and cons of recommending a low-carb diet to children and youth with T1D. In the end, both agreed that more research needs to be done in this area. Meanwhile, the ADA also held an online cooking demonstration offering helpful tips for healthy meal prep.
Family dynamics: With a big focus last year on how disappointing health outcomes look for those with T1D despite all the tech and tools available these days, it was little surprise that researchers are in hot pursuit of other contributing factors. One that came up repeatedly was the fact that family involvement is a vital component of optimal diabetes care.
Where to access materials
Registered attendees will have access to the #ADA2020 video presentations and ePosters for 90 days.
And anyone can peruse this publicly-accessible event site including session descriptions, presenter bios, and a meeting news recap page with various highlights. The event mobile app and abstract database are also available to anyone via smartphone, tablet or laptop device.
What's next?
No one knows for certain yet whether future ADA conferences will be held online, or if parts of this first-ever virtual experience can be replicated in some hybrid form of event. Two specific suggestions were being circulated:
The chat function during live presentations was particularly well-received, and many attendees hope that can be used even in future in-person SciSessions.
More immediate access to live recordings of presentations is also much desired, for the many people who are not able in person, or who might miss a particular presentation.
The ADA tells us the hope is Scientific Sessions will return as an in-person event next year, planned for Washington, D.C., June 25 through 29, 2021.
- - - - - - - - - - - - - -
Originally published June 24, 2020 on DiabetesMine